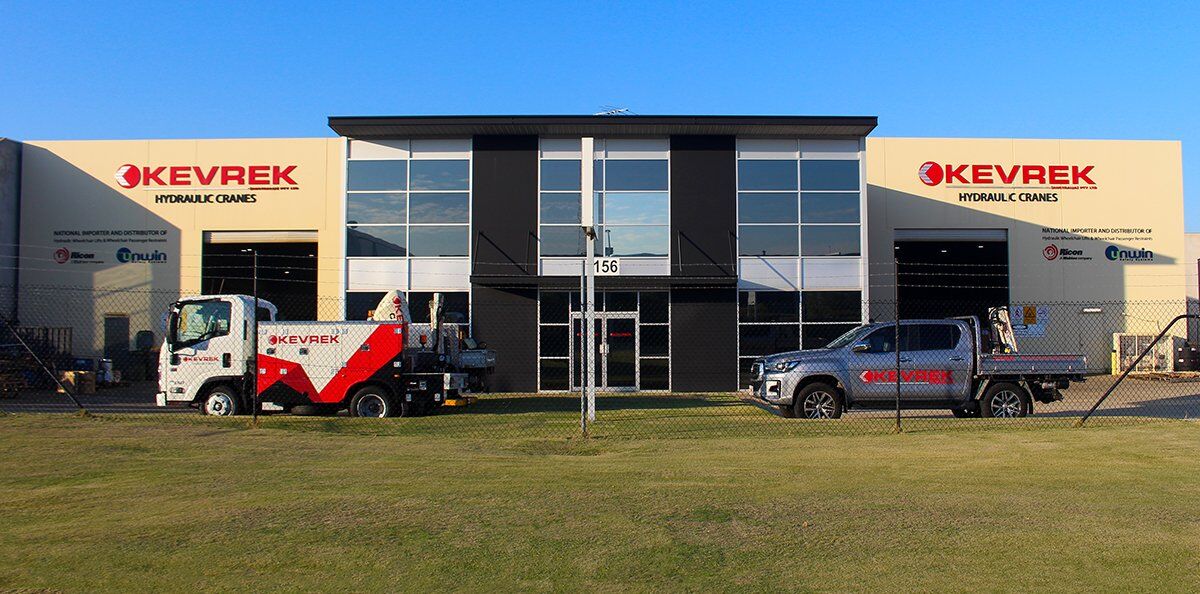 ABOUT US
Kevrek Australia has been looking far beyond the horizon since its first day of business. Kevrek is now the largest manufacturer of light vehicle-mounted hydraulic cranes in the country and is proudly "AUSTRALIAN MADE".

Kevrek is also the National Importer and Distributor for Ricon Wheelchair Lifts and Unwin Passenger Restraint Systems for Australia and New Zealand who are the market leaders worldwide for passenger safety equipment.

A family owned and operated company which started production in 1989. Under the strict guidance of Terry and Gary O'Neill, Kevrek has excelled in designing and producing a high quality product. Kevrek Cranes comply with all Australian Standards.

Kevrek increased to approx 20 Staff members and implemented a wide range of Dealers and Service Agents all over Australia and New Zealand since its beginnings in 1989 most of which have been working for the Company for many years. Kevrek takes pride in providing high class quality products backed up by exceptional service. By combining this with a unique approach and offering quality assured products to our customers we can differentiate ourselves from our competitors, making sure that the end user feels satisfied and can return to their work with minimal downtime.

Over these years Kevrek has designed and engineered many new attachments including the Pole Grab, Post hole Borer, Drill Rod Handler and Water Truck. The Pole Grab is one of Kevrek's patent products, designed to safely assist in the maintenance and service of the entire network in Western Australia.

Due to the stringent testing programs that pertain to major wheelchair, seat and vehicle manufacturers, both Unwin and Kevrek (Australia) Pty Ltd have built up the most extensive technical knowledge within the industry. This experience is basically due to product development, this coupled with our long standing association in this market, has made us the premier supplier of wheelchair and passenger security equipment throughout Australia.

Kevrek Australia was the Winner of the Best "Australian Agriculture Machine" at the 2007 Dowerin Field Day and also the "Circle of Excellence" award in 2005.
Services we offer include:
Kevrek New Crane Sales
Ricon Wheelchair lift Sales
Unwin Restraint Sales
Kevrek, Ricon and Unwin Spare Parts
Crane Servicing all makes and models up to 2 tonne
Wheelchair Lift servicing all makes and models
On Site Service available via mobile service unit
Free Quotes
Expert Technical Advice
Breakdown Service available at call
Service available Australia wide, and New Zealand
Services all Government Departments, Water Authorities, Electricity and Power, Mining, Agriculture and Councils.
[/db_pb_fullwidth_slider]